Welcome to Mrs. Slimskey's Pre-K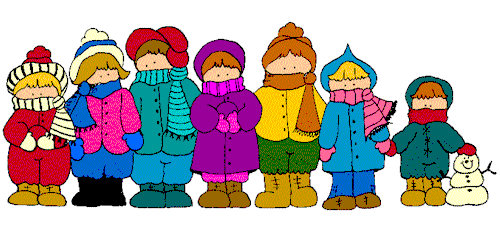 We go outside everyday, weather permitting. Please make sure your child is dressed accordingly. Also, please, please keep in mind that MITTENS are not only easier to put on, they are warmer!


Save the Date!

January 28th-February 3rd: Catholic Schools Week



Tuesday February 13th: One family member is invited to join us as we decorate our Valentine boxes . This activity will take place at 1:30 in the classroom.

Please send in a shoebox with cover by Friday February 9th.
A shoebox with a seperate cover as opposed to the flip covers works best!




Ideas for Home
Here is small summary of what we will be learning each week in January.

For the Letter of the Week, please spend time with your child finding words and pictures that have the beginning letter sound. Students can bring in their pictures on Thursday or Friday to add to our Letter Posters.
    
      January 2-5: Letter Bb, The Little Red Hen. ' making good choices' discussions
      January 8-12: Letter Tt, learning about our Neighborhoods and Community Helpers
      January 16-19: Letter Nn, more Community Helpers, Rhyming Words
    
  Week of January 29th: Letter Ss, learning about our Five Senses


Everyone seems to be enjoying the SeeSaw Ap. If you have not connected with your child's Journal or need me to resend your child's code so you can join, send me a note!



Child Friendly Websites to enhance Learning:
Starfall.com

ABCMouse.com
 
Our Pre-K environment provides ample opportunity for hands-on learning, 
project based learning, self-guided learning at centers,
and practice with important life skills that foster independence.

Additional activities include music, motor activities, art, and sensory play.
I also provide experiential learning in an Outdoor Classroom! 

I strive to instill in my students the same tenets that have guided my own life: perseverance, resiliency, tolerance,respect, confidence, curiousity, patience, compassion, honesty and responsibility.
When packing lunch or snacks, please use re-usable containers.
Ours is an Earth-friendly classroom

I look forward to partnering with you in the education of your child.